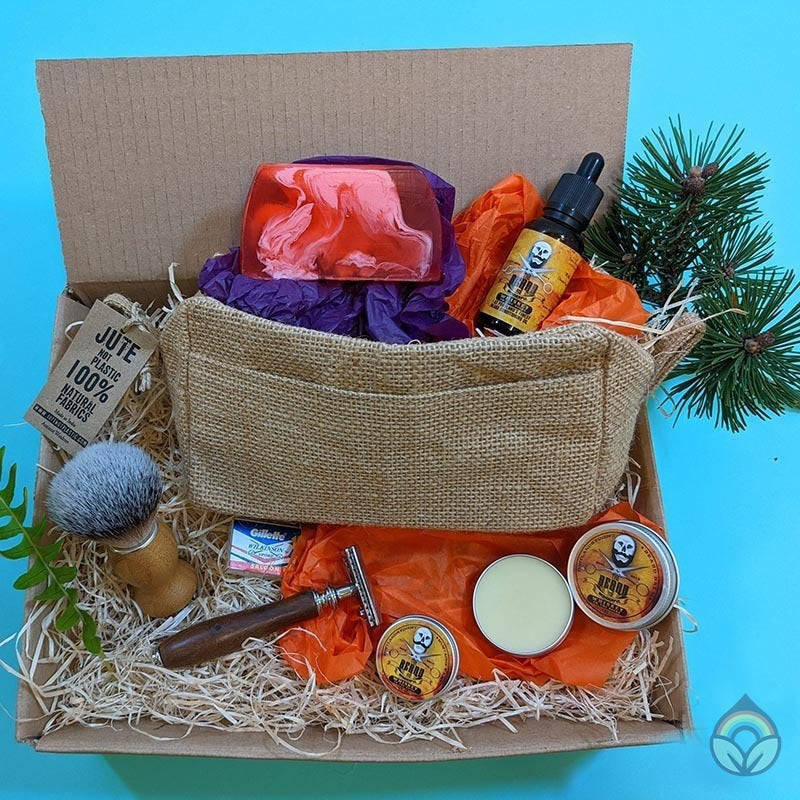 Description
Our Beard Gift Bags make a wonderful gift for your bearded significant other. Everything needed to maintain a strong healthy beard, plus the tools necessary to edge the sides to get the perfect shape whether its a goatee, a Van Gogh, or a ZZ-Top lookalike.  Elegantly presented in a Jute Toiletry Bag. The Viking comes with the following...
Vegan Shaving Brush: not that we are actively encouraging you to shave your face, but if you must (or you wish to shave elsewhere) treat yourself to the luxury of the finest cruelty-free vegan shaving brush money can buy. The bamboo handle is sustainable and the bristles are soft enough to give a nice feel and a great lather but with plenty of backbone, facilitating a vigorous scrub, raising the hairs for deliciously close shaving. This shaving brush works very well on the toughest of beards, leg stubble, or the softest of hairs in your nether regions (and much less painful than a Brazilian Wax).
Grapefruit Shaving Soap Slice: offers a rich, thick lather full of natural citrus fragrance. Grapefruit fragrance is said to reduce stress, stimulate circulation, increase energy and enhance mood.

Whiskey on the Rocks Beard Oil: Traditionally made, the beard oil contains the finest ingredients for nourishing and strengthening your beard including Jojoba and Hemp Seed Oil. Moisturizes, lubricates, conditions, and protects both the hair and the skin. Vital for healthy beard and hair growth, reduces skin irritations, has natural healing properties and can help reduce acne, spots and blackheads. Antibacterial properties to help with flaky skin, dandruff and dry scalp problems. Strengthens hair by penetrating the hair follicles and hydrating hair from the inside of the shaft. Adds volume to thin hair and stimulates hair growth.

Whiskey on the Rocks Beard Balm: A traditional Daily Beard Balm for Beards & Moustaches. In addition to a great fragrance this beard balm contains premium grade natural ingredients to nourish, moisturize and tame your facial hair including Shea Butter, Golden Jojoba Oil, Hemp Oil, as well as natures finest Beeswax.

Whiskey on the Rocks Moustache Wax: This truly is an outstanding wax. Firm and moisture resistant, this strong moustache wax set can be used to firmly hold your facial hair in all styles and shapes and lasts a long, long time as well as being moisture resistant.

Presentation
Our customers' opening experience is important to us. We want you to get that feel good moment of delight as you open your parcel which is why we take the utmost care in wrapping all our parcels.

The items in these Gift Sets are thoughtfully & individually wrapped in complementary colourful tissue papers and carefully packed within our signature biodegradable corn starch peanuts, hive wrap & wood wool and sealed with paper tape.

Would you like a personal message included? No problem. Leave us a message at checkout.
Specifications
Bamboo Shaving Brush: approximately 10 cm tall
Grapefruit Shaving Soap Slice: 125-150 g
Whiskey on the Rocks Beard Oil: 30 ml
Whiskey on the Rocks Beard Balm: 34 g
Whiskey on the Rocks Moustache Wax: 15 g
Rosewood Handled Safety Razor