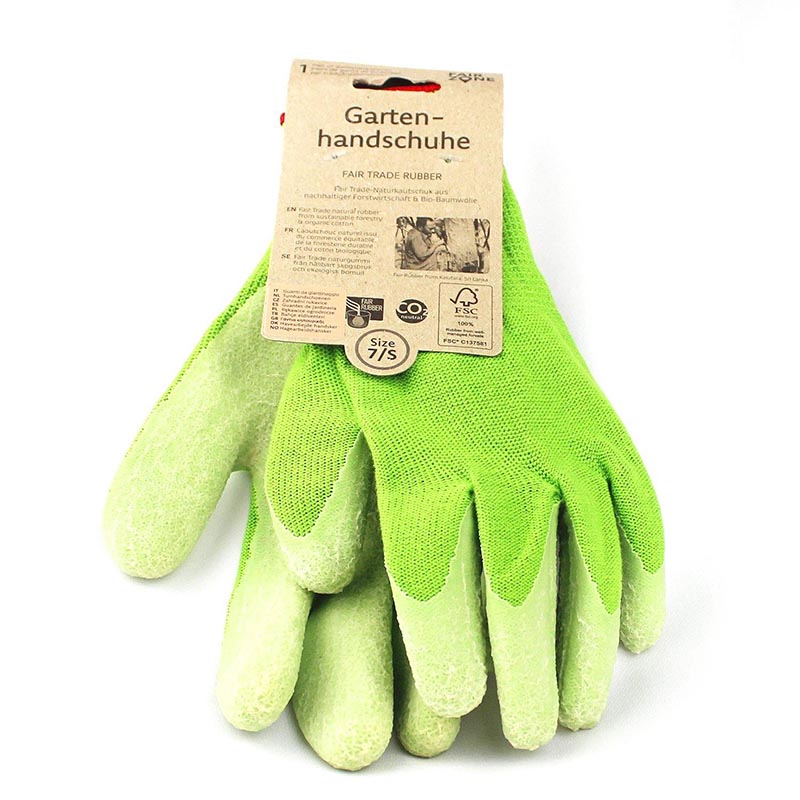 Description
Robust knitted gloves made of fair trade cotton and coated with fair trade, FSC® certified natural rubber.
Protect against thorns, chafing and dirt. The gloves are easily washable.
Specifications
Contents: 1 pair
Material: Knitted Cotton Coated with FSC® Certified Natural Rubber
Size: Small
Story

Not just Fairtrade, FAIR SQUARED is an alternative trade organisation founded as a result of unjust trade systems, unfair working and living conditions along with the lack of protection for animal welfare and the environment.
Since 2013 they have been dedicated to making change and contributing to a fairer, more eco-friendly and sustainable future.  
Fair Squared products are not just an 'alternative'. the high quality care products are 100% free of palm oil and also hold the NaTrue Natural amd Organic certification, are registered vegan with the Vegan Society, certified cruelty-free by animal rights organisation PeTA, are Halal and the packaging is FSC certified.
In order to be climate neutral, FAIR SQUARED work with Climate Partner to ensure all their products are CO2 neutralised, with emissions offset in Raichur, a rural district in central India, where they finance clean and efficient pressure cookers for local families. 
Since 2017 all FAIR SQUARED products have been climate neutral.
FAIR SQUARED are actively trying to reduce excess waste.
The eco-conscious products are packaged in truly plastic-free packaging, which consists of glass bottles with aluminium lids fitted with a new innovative Fairtrade biodegradable rubber seal, which is Fair Rubber certified.