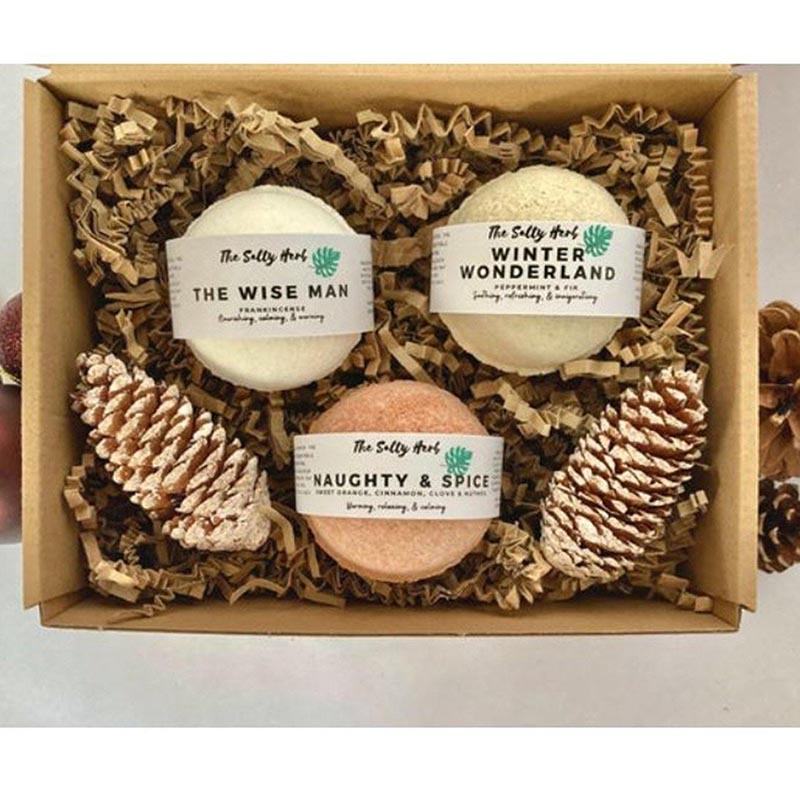 Description

Wise Man Bath Bomb
Naughty and Spice Bath Bomb
Winter Wonderland Bath Bomb
Get naked! No really. Follow the great advice from the Salty Herb folks. 
In their own words "We strongly advocate for self-care and self-love. Our tagline 'get naked' means two things; our products are fully transparent, using only nature's naked natural ingredients & we also want to encourage people to get naked and spend time with themselves, looking after their skin and learning to love the skin they are in." Well said, we say.
The Wise Man: Loaded with frankincense essential oil to bring out the inner king or queen. Then there is almond oil which has an abundance of vitamin E (great for the skin), grapeseed oil which is absorbed by the skin without any oil residue, and the organic epsom salts which will relax your muscles and leave your skin feeling (oh so) soft and rejuvenated.
Naughty and Spice: Warming, relaxing, & calming. If Christmas could be a bath bomb, this would be it. Filled with nutmeg, cinnamon and orange & clove essential oils - we really wish it could be Christmas every day.
Winter Wonderland: Refreshing, invigorating and cleansing. Want to walk through the candy cane forest? Filled with peppermint and fir essential oils to bring you to a winter wonderland
Specifications
Bath bombs are extremely easy to use.
Simply pop one under running water.
Light a candle.
Close the door.
Relax.
We would recommend a FAR candle, but there are plenty more to choose from to suit your mood or fancy. 
Story
The Salty Herb are a skincare company (Becky, Peter and Willow, their cat) from Belfast, Northern Ireland (what's the craic?) founded in 2019. They are passionate about people, the planet and plants. Their mission is to encourage people in a fast paced world to slow down and take some time to relax. 
They have carefully and lovingly hand crafted each product and chosen essential oils which are relaxing, de stressing, uplifting, calming and energising. Taking the time to show your body some love is vital as it's the only home we have. By using only natural, cold pressed, plant based carrier oils and essential oils we're allowing our bodies to be nourished by nature's finest.
Where they can, they source ingredients from other small family businesses and use suppliers locally within the UK. We are working towards having all our ingredients organic. All their products are environmentally friendly; handmade in small batches and packaged and posted in recyclable materials sealed with biodegradable packing tape and protected with biodegradable packaging peanuts.