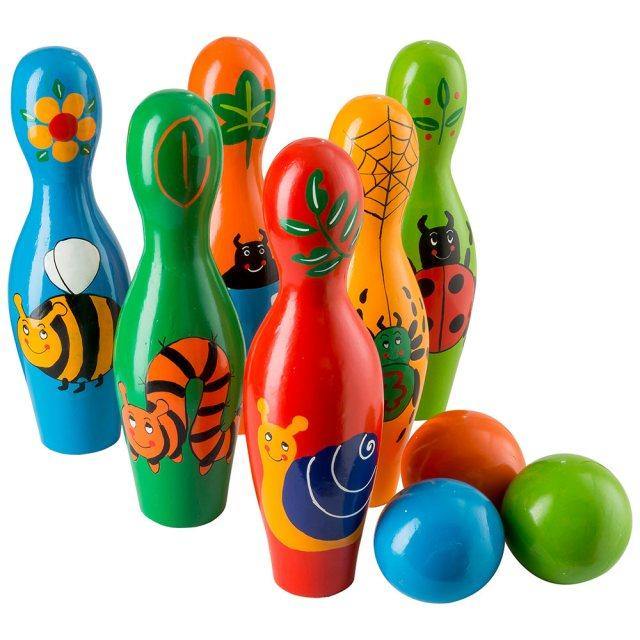 Description
A handcrafted wooden skittle set for a traditional game of bowling. A fun playtime game popular with little ones and adults, these skittles have fun minibeast and insect designs.
This set of 6 minibeast skittles comes with 3 balls and a handy storage bag for safe keeping.
Beautifully handcrafted, these skittles are hand painted with colourful insect designs.
A fun, traditional game for all the family, children will love rolling the balls to knock down the skittles!
This set of minibeast skittles:
printed on both sides with a multicoloured design and has a natural wood grain edge
-includes 6 skittles, 3 balls and a calico storage bag
-has 200 mm tall skittles
-made from eco-friendly wood
-supplied in a box with a carry handle
-has 1 each of a snail, spider, ladybird, caterpillar, bumblebee and beetle skittle

This game can help your child to develop:
-Dexterity
-Gross motor skills
-Hand eye coordination
-Sense of achievement
-Social interaction
This fair trade wooden skittle set is handcrafted by skilled artisans in Sri Lanka from sustainably sourced rubber wood and non toxic paints.

Specifications
-Made of rubber wood
-Dimensions: 96mm (H) x 146mm (W) x 58mm (D)
We recommend a play age of 1-6 years.

TOY SAFETY
-Age suitability: 10 months +
-WARNING! Not suitable for children under 10 months, due to size and shape of pieces

CLEANING INSTRUCTIONS
-Wipe clean only with a damp cloth
-Wipe away any excess moisture and leave to air dry (avoid direct sunlight)
Story
Lanka Kade has direct trading relationships with their producers, Upul the director travels to Sri Lanka regularly, working with the artisans to ensure fair trade working practices are met and maintained.
Lanka Kade's commitment to their producers supports their growth and development, whilst ensuring their employees have a sense of job satisfaction and that their employment is valued.
The producer groups offer their staff good rates of pay, equal opportunities and a safe working environment in compliance with the 10 Principles of Fair Trade.
When you purchase a Lanka Kade product you directly support the educational foundation which provides books and daily milk drinks to several rural schools in Sri Lanka.
Beautiful colours
Beautifully made, beautifully coloured and painted,chunky,toddler loved the painted creatures, very safe with no bits to break off, just overall everything I was looking for in a toy x
Great Fun!
This is even more fun than anticipated. The kids love it of course, but it is also fun when the kids are in bed :)
It is more difficult than it looks, especially on a carpet, which adds to the challenge of course.
6-pin indoor bowling. Who knew?
Recommend without hesitation.