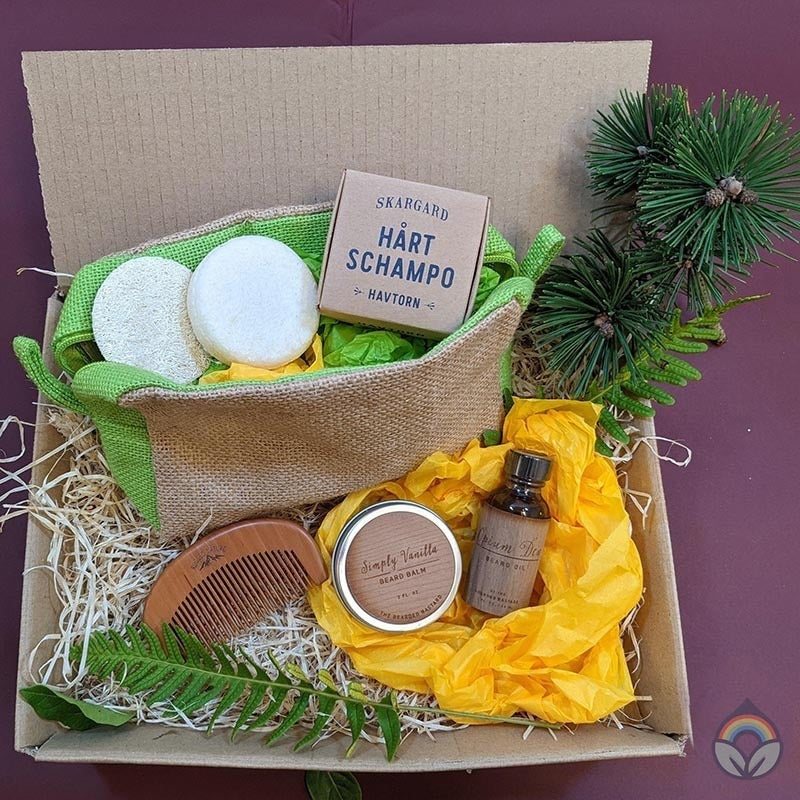 Description
Our Beard Gift Bags make a wonderful gift for your bearded significant other. Elegantly presented in a Jute Toiletry Bag in contrasting Natural & Lime. The Urban Hipster comes with the following:

Simply Vanilla Beard Balm by TBB: When beard oil isn't enough to keep longer beards in check, reach for one of our beard balms. This balm contains the same conditioning properties as the famous Simply Vanilla Beard Oil, along with lanolin, beeswax and shea butter to reign in wild beards. Whether you just have a few curly hairs or a thick, full-size beard, our Simply Vanilla Beard Balm provides just the right amount of hold with an inviting, complex vanilla scent.

Opium Beard Oil by TBB: Opium Beard Oil is delightfully intoxicating, our Opium Den Beard Oil is as fragrant and inviting as an Eastern market, yet laced with the dark richness of fine tobacco and smouldering resins. Cloves, vanilla, and coffee all enhance the experience to carry you to a place that is exotic and enchanting, yet tinged with a sense of alluring danger.

Wooden Comb by Rugged Nature: A wide toothed beard comb is a must have for any b*st*rd on their bearded journey. The wide teeth of our comb will help detangle your beard with far less snagging and pulling of that glorious man mane.
Seabuckthorn Shampoo Bar: Why this particular shampoo? …. it's the sheer concentration (and vast variety) of nutrients that may separate sea buckthorn from the rest of the pack. Valuable substances contained in sea buckthorn oil play an important role in giving beard and head hair a healthy, shiny appearance. It is easy to see why longer, stronger strands have been attributed to this extraordinary plant's nurturing oils. 
Presentation
Our customers' opening experience is important to us. We want you to get that feel good moment of delight as you open your parcel which is why we take the utmost care in wrapping all our parcels.

The items in these Gift Sets are thoughtfully & individually wrapped in complementary colourful tissue papers and carefully packed within our signature biodegradable corn starch peanuts, hive wrap & wood wool and sealed with paper tape.

Would you like a personal message included? No problem. Leave us a message at checkout.

Specifications
Vanilla Beard Balm: 60 g
Beard Oil: 30 ml
Beard and 'tache' comb: Laser-etched, saw cut from hard wood 8 cm x 6 cm which is 3.5"" x 2.5"" with 3cm or 1.25"" tines.
Seabuckthorn Solid Shampoo: 60 g