Our Vision
Earth Care-Fair Share

The rainbow, a universal symbol of hope, love and life, of something better to come was our inspiration: to create a bridge between peoples; a space where all participants are equally valued and heard, each integral to the whole.
The Rainbow
In some cultures the colours of the rainbow reflect the health of the Earth and her peoples. If the colours are dilute, health is poor but if the colours are strong the Earth has healed. Our mission is to strengthen the colours, make them bright like the children's pictures we are all familiar with.
We've never had a better chance to make a greener world. We have all seen how Covid-19 has delivered unusual environmental benefits: cleaner air, lower carbon emissions, a respite for wildlife. We have been reminded of our need to respect Mother Nature. This is our moment to seize and heal the health of the Earth. The power is in our hands.
We do what we do to inspire you to live a happy and healthy lifestyle, to enjoy our beautiful world while resting easy in the knowledge that you've made the most positive choices for the planet and her people.
The Power of the Purchase
The economic landscape is changing as ethical consumers join together in their commitment to shop according to their principles. Statistics show that the sustainable shopping sector is growing all the time, meaning more people are joining the ranks of ethical shoppers.
One common belief that all ethical shoppers share is that it is possible to effect change by voting for your values with your pounds. They are right. As ethical shoppers we have the power to effect real change; by making informed choices for ethically and sustainably sourced products, we place a demand on companies to be transparent and uphold higher standards in terms of procurement and supply chains.
The great thing about ethical shopping is that the more demand we create for ethically curated products from mission-driven companies, the more supply there will be. Shopping sustainably not only supports your values in the short term, it paves the way for more options to be available in the future.

Ethical shopping is a growing movement and it's making a significant impact:

‣ Ethical consumers spend a combined $300 billion per year on ethical products, with numbers in recent years increasing 10% year-on-year. That increase is likely to continue, with a whopping 73% of millennials saying they're likely to change purchasing decisions based on environmental impact.

‣ Child labour rates dropped by over one third between 2000 and 2017 and they've continued this downward trend since then. 56% of us have stopped buying from brands we consider to be unethical.

‣ Sustainably-marketed products are responsible for more than half of the growth in consumer packaged goods since 2013.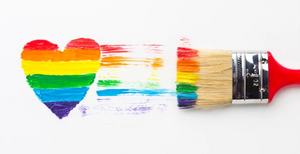 Knowledge is Power
It is essential that you, as a consumer, know the story of your purchases and that ethical principles have been upheld throughout the supply chain. You need to be able to buy from suppliers that you trust have the same high ethical standards that you hold. But ethical shopping can be confusing and time-consuming. As consumers we don't all have the time to do the necessary research and checks.
At RainbowLife we have made it our mission to do the research, so you are enabled to make informed choices about the products you buy. We bring together products sourced from all over the world that hold the ethical credentials we know are important to you. Why? Because they are important to us.
We are committed to ensuring the highest possible standards of ethical practice. We maintain a zero- tolerance approach to modern slavery, bribery and corruption throughout our supply chain. We want you to know when you use your product that you can be certain that the person who made it works in a safe environment, is being paid a fair wage and is using sustainable materials to make your product.
Purposeful purchasing gives you the power to empower; to enable artisans to build their own futures and sustainable living to be possible.
Our Products
We choose our products to enable our customers to live happier, healthier and more sustainable lives and for the producers of those products to live happier, healthier and more sustainable lives.
Our key principles that guide our purchasing are:

Simply put- it must be good for the people who buy it, good for the people who make it and good for the planet.
All our products hold at least one of our ethical credential badges:






While most of our products will hold a certification from bodies such as BAFTS, WFTO, FSC, Natrue, we are aware that it can be time-consuming and difficult for smaller brands to receive such accreditation, and in these cases we check that our ethical standards are upheld in production. In order to make shopping according to your personal principles easier we have created a 'Shop by Ethics' page.

We actively seek out:

‣ Social enterprises that support social and economic empowerment and educational initiatives.

‣ Small producer self-help groups that have worked together to break free from the poverty trap.

‣ Enterprises that support the work of skilled artisans using traditional crafting methods that need recognition on the global market. Products that celebrate the rich diversity of cultural traditions & crafts.

‣ Zero waste products that reflect our commitment to a movement towards a circular economy. Our range of Upcycled goods at RainbowLife is expanding rapidly.

‣ UK based brands that sell products that have been made here in Britain utilising local resources, thereby cutting carbon emissions through import.

‣ Health and wellbeing products that have well-documented benefits.

Over the last year, we have built a community of ethical enthusiasts who have been enjoying the benefits of our products. We now have a large inventory of products but we continue to search for new products with ethical credentials that support environmental issues and marginalised communities across the world. We welcome suggestions and feedback about our ranges.
Front Stories
As the rainbow symbolises a bridge between people, we are all about connections and mutually beneficial relationships.
RainbowLife is not only a store of ethically sourced products but of stories. Our mission is to inform our customers about the story of the producers so they may know the impact of their purchases and how they play a key role in the economic empowerment of the producers.
We call these stories Front Stories rather than backstories as we believe they are integral and enable us to make connections. Wherever possible we aim for our customers to 'meet the makers' and learn where and how our handcrafted products are made. We always ask our suppliers for as much detail as possible so we can share this information with you.
See here for our Front Stories
The Future
The age of ethical consumption is here, we just need to make it possible. Whatever product you are looking for ultimately we aim to provide you with the ethical and sustainable option.
We believe that one day, ethical options will be the default rather than the exception. As individuals we each hold the power to pioneer change:
' I am only one, but still I am one. I cannot do everything, but still I can do something; and because I cannot do everything, I will not refuse to do something that I can do.' -Helen Keller
By joining us in our endeavour, together we create a healing rainbow for the future of the planet and her peoples.