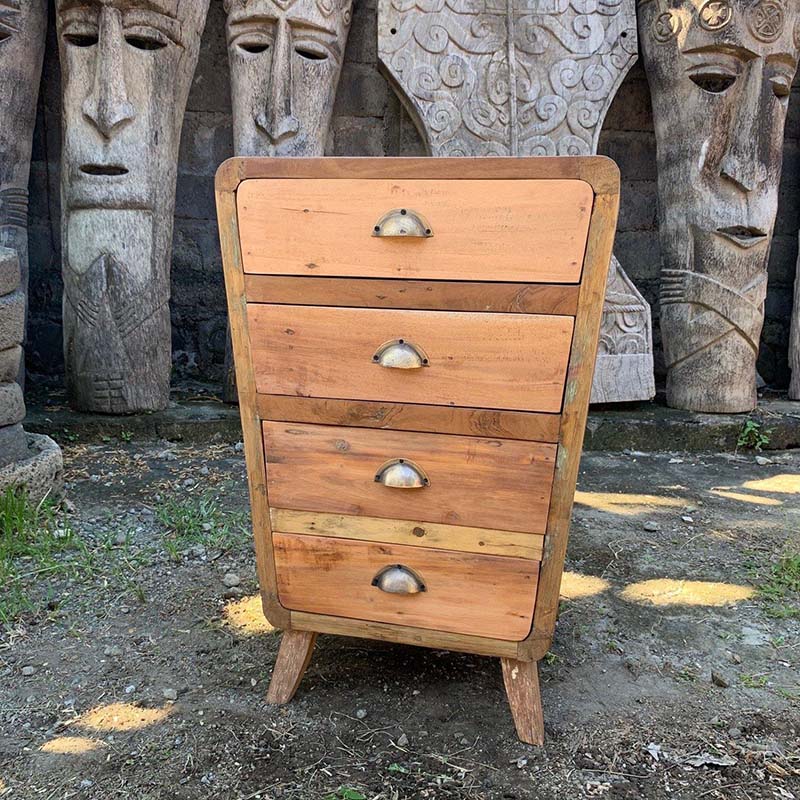 Description
Transform your living space with this stunning chest of drawers, handcrafted in Bali using upcycled teak wood from retired fishing boats. This exquisite piece of furniture is not only beautiful but also eco-friendly, giving new life to salvaged materials and preserving Bali's coastal heritage.

With four spacious drawers, this chest provides ample storage space for any room in your home. The wood's natural colouring and rustic finish, combined with the elegant curved edges, create a warm and inviting atmosphere, making it a perfect addition to any home décor.

The natural finish of the teak wood accentuates its rich details and distinctive character, bringing a touch of Bali's exotic beauty into your home. And since each chest is handmade, you can be assured that your piece is a unique and exclusive addition to your living space.

Say goodbye to mass-produced furniture and embrace the allure of handcrafted, eco-friendly pieces with this magnificent chest of drawers. Elevate your living space with the charm and character of Bali's coastal heritage, all while providing essential storage for your home.
Spread the cost of this item with KLARNA
Specifications
Dimensions: 52 x 43 x 77 (cm) 
Story
The Balinese community had always been dependent on the sea and fishing for their livelihoods. However, with the arrival of modern fishing equipment and practices, the traditional wooden boats used by the fishermen were gradually abandoned and left to rot on the beaches. That was until a group of ingenious and entrepreneurial Balinese craftspeople saw an opportunity to repurpose the disused boats into unique and unusual furniture.

Using their skills and creativity, they transformed the old wooden boats into beautiful pieces of furniture that had a history and a story to tell. From coffee tables to chairs and benches, each piece was lovingly crafted to preserve the character and charm of the original boat. The furniture quickly became popular with tourists and locals alike, and demand grew rapidly.

The success of the furniture-making venture provided a much-needed lifeline for the Balinese community during times of dire hardship. The craftsmen were able to earn a decent living, and the sale of the furniture supported the local economy. It also helped to preserve the traditional wooden boats, which are now seen as a valuable cultural heritage. The repurposed furniture not only provided a unique and beautiful addition to people's homes but also supported an entire community, proving that creativity, innovation, and entrepreneurship can make a real difference in people's lives.