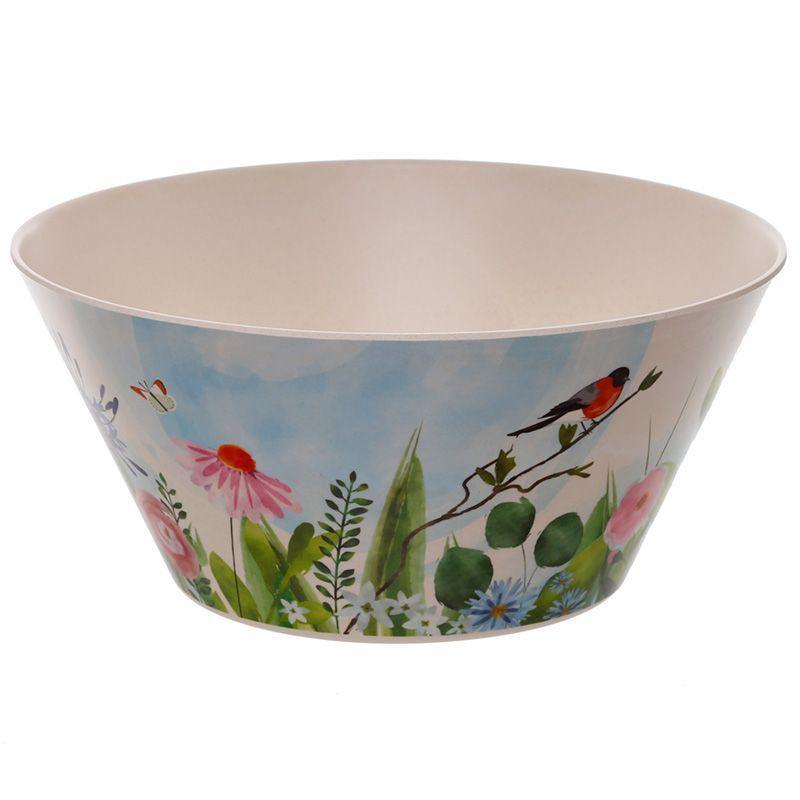 Description
Even if your garden is not botanical, you can certainly add a dash of Kew gardens to your outdoor or indoor life. These pretty bowls have a blue-tit perched on a pretty purple flower that you can almost hear chirping away happily as you dig into your favourite dish. Like all bamboo-composite items, these are durable, hard-wearing and eco-friendly. There are Botanical Gardens matching mugs, bowls and plates available too.
See more Eco-Friendly bamboo products >> 

Specifications 
Material: Bamboo Composite - Bamboo (60%), Melamine (35%) and Cornstarch (5%)
Dimensions: Height 12cm Width 25cm Depth 25cm
Brand: Bambootique
Food Safe: Yes
Environmental Credentials: Made from a composite of sustainably grown and fast renewable organic bamboo mixed with corn starch and melamine for durability.
Microwave Safe: No
Dishwasher Safe: Yes
The bamboo has been recycled from offcuts of chopsticks. This range is BPA-free, reusable and phthalate-free. Hot and Cold Food: Yes. Caution: Not to be used with food or drink over 70c as there is a danger of scalding.

This bamboo reusable Bambootique collection is most definitely the leader of the pack when it comes to being environmentally friendly. Made from bamboo that has been sustainably grown and managed. This bamboo range is reusable and eco-friendly, they are BPA and phthalate-free and any silicone used in the travel mugs is recycled.
Story
With offices in both Xiamen and Yiwu, Puckator has the people on the ground to be able to physically inspect and monitor the factories and businesses used in their supply chain. This way they (and we) can be sure that their suppliers adhere to the high standards that would be expected of them in the ever-growing environmentally concerned industry. Combined with bi-annual trips to China by their buying team and a commitment to requesting social audits where possible, they are confident that by working together with their suppliers, efficiency and standards will continue to improve and grow year upon year. 

Read More....