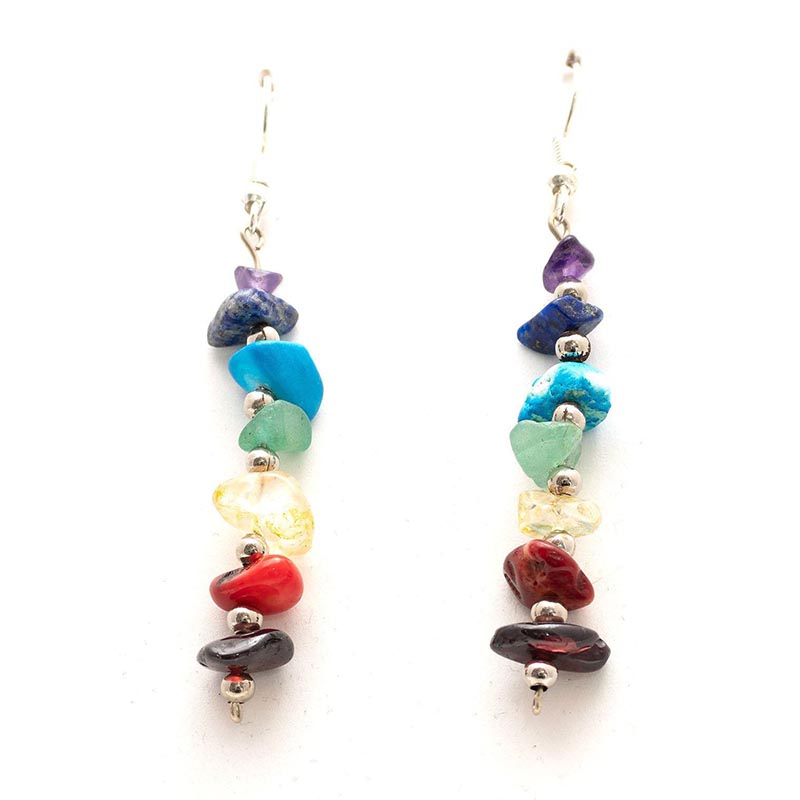 Description
Chakra Stick Earrings are brightly coloured earrings featuring seven stones, each representing one of the seven chakras. If you want to read more about the chakras, click the next tab. It is pretty cool. 
Now when your friends ask about your funky-cool earrings you can say: "ah yes, but not only are they funky-cool they are actually imbued with deep and profound meaning. Allow me to explain..."
While being made of stone somewhat limits things, the Chakra Stick earrings are therefore not quite spot on the seven colours of the rainbow, but they are close enough and since they are all about peace, love and harmony we gave them a pass into the exclusive Rainbow Collection.
After all gorgeous is gorgeous just like you.  These are to be worn with pride. Don't forget. For more delightful Rainbow themed items click HERE
The Seven Chakras
Specifications
Hand made in Peru from small coloured stones
Fair Trade
Guaranteed to be imbued with Rainbow and Chakra Love.
Story
Siesta Crafts was started in 1983 by Chris and Les Harper with a market stall selling handicrafts that were brought back from their travels from Mexico and Guatemala (hence the name!).
They now import directly from suppliers in countries all over the world on a Fair Trade basis and they are proud to be a member of the British Association for Fair Trade Shops and Suppliers.
They specialise in unusual and interesting gifts. In this day and age of anodyne, cloned town high streets, it is good to see they have a vibrant, colourful presence with a wide range of unique and colourful handcrafted and fair trade items.
Their intention is that by trading with their producers they are helping them to achieve economic self-sufficiency, whilst simultaneously bringing to their customers the skills and crafts of other cultures.