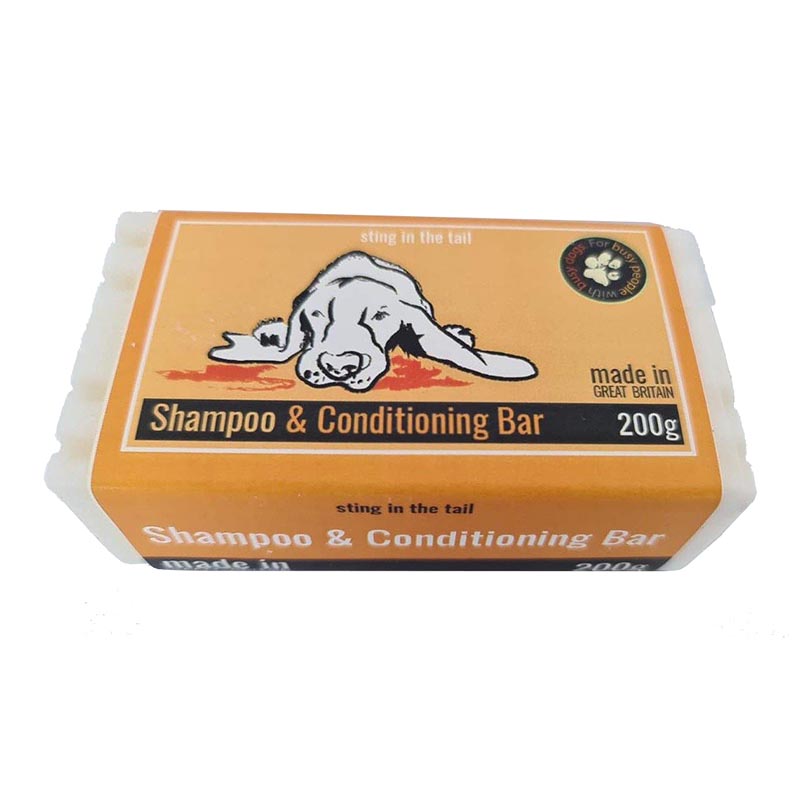 Description
Now even Pooch and Fido can be eco-warriors just like you with this Dog Shampoo and Conditioner Bar.
No more plastic bottles or sky-high transportation costs associated with liquids. Just lustrous manageable locks and tail wags of approval.
This shampoo and conditioning bar for dogs has a mild formula and a fresh fragrance. The bar contains coconut and essential oils to leave dogs coat healthy and glossy.
The shampoo and conditioning bar is ridged for easy grip so there'll be no dropping the soap even if your four legged friend is less than co-operative.
It is made in the UK with love and fair wages from natural dog friendly ingredients by the folks over at Sting in the Tail in the Lake District.
Specifications
Size: 200 g
Ingredients: Sodium Cocoyl Isethionate, Hydrogenated Sunflower Seed Oil, Aqua, Coconut Acid, Polyglyceryl-4 Laurate, Glycerin, Sodium Isethionate, Argania Spinosa Kernel Oil, pentesodium Pentetate, Melalueca Alternifolia (Tea Tree), Cymbopogon (Lemongrass).
Origins: Made in UK
Story

Sting in the Tail has been designing and manufacturing products in the UK for 27 years. They are based in the English Lake District and assemble all their products in their headquarters on the edge of Morecambe Bay. They always endeavour to source and manufacture as many components and products in the UK as possible.
The design of many of the products reflects the heritage of our country with a modern twist. The products use tried and tested formulations that work and are not a gimmick! They recognise that packaging has a very short life before ending up in the bin, landfill or even the oceans. They endeavour to keep their packaging to the minimum, choosing to use containers with a future use or recycled, functional packaging.