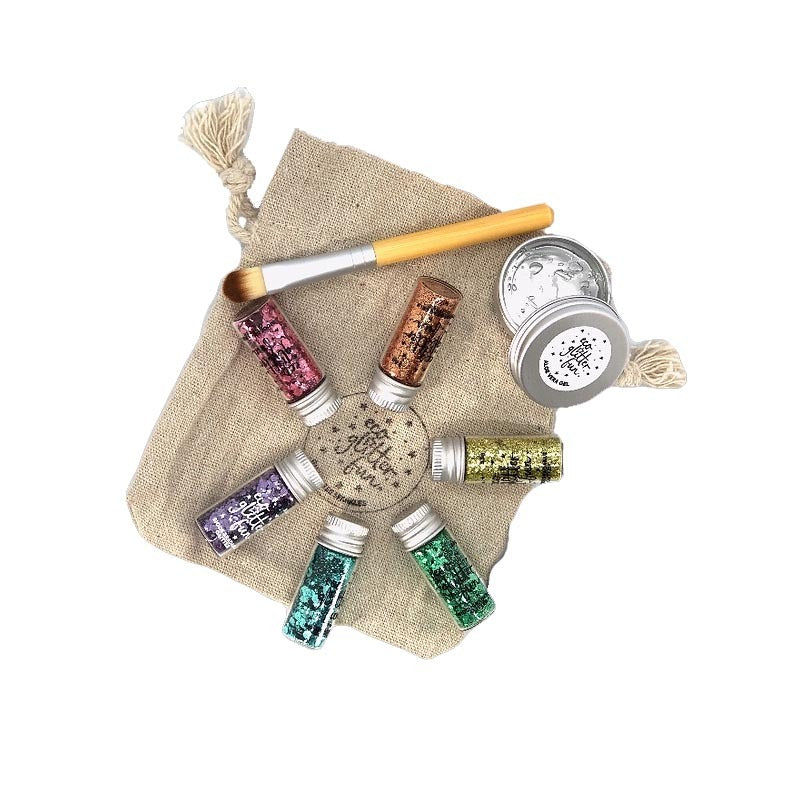 Description
Bioglitter® Sparkle glitters from Eco Glitter Fun.

Vegan and cruelty-free. Contains 6 x 4ml (approx 3.5g) bottle 10ml aloe vera gel for application, linen bag and bamboo application brush. 
This is a fab collection of vibrant pastel colours. 

Cosmetic grade and suitable for application on the face, hair, body and crafts.

This can be used for application on your face, body, hair and in crafts.

All our biodegradable glitter comes in glass bottles with aluminium lids and compostable labels. All packaging is made from recycled cardboard, shredded paper and paper packing tape.

Bioglitter® SPARKLE is made from a unique Modified Regenerated Cellulose . Once in the natural environment microbes will consume the biodegradable content over a period of weeks and months.

Bioglitter® Sparkle is suitable for vegans. No animal testing was involved in the development or production of our glitter, it is cruelty-free. 
Story
The Eco Glitter Fun glitter story & some FAQs:
We are official licensed resellers of Bioglitter™ - certified 'OK biodegradable WATER' by TÜV Austria. Demonstrating that our glitter quickly biodegrades in natural freshwater environments. The highest level of independent certification for freshwater biodegradability in the world.
​
We are licensed resellers of both Bioglitter® PURE and Bioglitter® SPARKLE.
​Bioglitter® SPARKLE, its 92% plastic-free and independently tested to prove it will degrade in natural freshwater environments and not just an industrial, or home composter. Bioglitter® PURE, its 100% plastic-free and Certified 'OK Biodegradable WATER' by TÜV, a world first.
Bioglitter® PURE and Bioglitter® SPARKLE offer you two different glitter makeup looks and creative options. Nevertheless, both are made from a unique Modified Regenerated Cellulose and once in the natural environment microbes will consume the biodegradable content over a period of weeks and months. Warm and wet conditions are ideal and higher concentrations of microbes will increase the rate of biodegradation. A good analogy is that a leaf in an arid environment will take longer to degrade than in a swamp. The rate of degradation is determined by what size the eco glitter is and what condition it finds itself in.
Being a complex subject there is a good deal of greenwashing occurring. There are a lot of companies claiming their glitter is biodegradable however it is mostly not the case, and unfortunately, consumers are being tricked into purchasing a product, which is in environmental pollution terms, no better than plastic. Biodegradable is just a word and doesn't actually mean anything unless qualified.
Some of the other glitter on the market claiming to be biodegradable do have a cellulose component however are made from PLA, Cellulose Acetate or Cellophane. As they do not degrade in the natural environment, for example, a farmer's field, wastewater, lakes or rivers, they are no better than plastic.
How can I tell the difference between actual Bioglitter® and 'fake' biodegradable glitter?
Bioglitter® only comes in a hexagon shape, it does not come in stars, circles or hearts and is not holographic. All those products still are in development at Ronald Britton Ltd.
There is also a very basic test to see whether your glitter has a plastic base.
Heat or burn the glitter product. (Don't try this at home!). If it melts and sticks to the surface it's on, the glitter mainly contains plastic. It's easiest to put the glitter on a sheet of aluminium foil and heat with a naked flame from beneath. Again, we do not suggest you try this, it's just an example of how you can determine whether your glitter contains plastic or not. Unfortunately, this test does not work on cellophane.
To ensure you are buying the real thing, always purchase your biodegradable eco glitter from licensed Bioglitter® retailers & resellers (like us). Look out for the 'Bioglitter®' logo or 'made with Bioglitter®' logo.
Another step is to ask the seller you are buying from for 'proof of purchase' from a licensed Bioglitter® reseller.
Stephen Cotton, Commercial Director at Ronald Britton Ltd,
"The ethos of Bioglitter® is to design all the problems out of glitter, so consumers need not worry about where the glitter ends up. Bioglitter® PURE utilises our latest developments and technologies, being plastic-free and 'OK Biodegradable WATER' certified, it achieves our 'Guilt Free Glitter' goal. SPARKLE, which is not far behind, is being re-engineered to achieve the same accolade.
The science behind biodegradation, the hierarchy of different environments and what it all means is both very confusing and complex. It is therefore open to oversimplified and greenwashed messages, misleading the well-intentioned consumer. We feel that being open and educational about Bioglitter® and the whole topic is the only way to overcome this confusion in the long term by increasing knowledge and understanding of the subject.
Working with like-minded companies like Eco Glitter Fun, who really care, are passionate and motivated to make a difference, is an enormous help in spreading the word and increasing awareness of the simple greenwashed messages that can so easily catch the consumer's ear."
Does Eco Glitter Fun glitter satisfy European Toy standards?
Yes, it meets European standards for flammability and migration of elements.
Is Eco Glitter cruelty-free?
Bioglitter® SPARKLE and PURE are cruelty-free.
Bioglitter® SPARKLE is vegan-friendly. Bioglitter® PURE is suitable for vegetarians and contains Shellac.
The aloe vera gel and hair gel we stock are cruelty-free and vegan.
No animal testing was involved in the development or production of the glitter.
What about allergies?
Bioglitter® is free of the 14 common food allergens. None of our raw materials knowingly contain any common allergens and our manufacturing equipment is not used to produce any other products that contain allergens.
Can I eat it?
Although non-toxic and non-harmful, Bioglitter® is NOT a foodstuff and therefore not intended for consumption.
How long will it last?
Bioglitter® is very stable and will not biodegrade on the shelf. Biodegradation will only be initiated in compost, soil, waste-water, freshwater or marine environments where microorganisms are present.
Bioglitter® as supplied in dry form, has an indefinite shelf life providing it is stored in a dry dark, cool environment, out of direct sunlight, away from direct heat sources and not exposed to microorganisms. However, for good manufacturing practice, we would recommend you use the product within 3 years to ensure optimal condition.