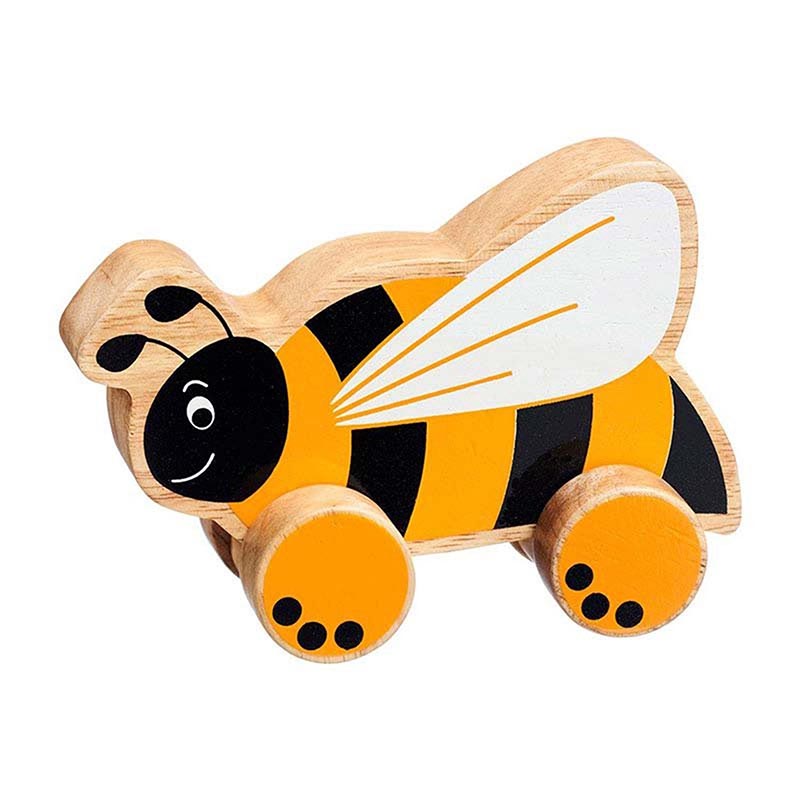 Description
A chunky wooden toy push along. This colourful toy is handcrafted from sustainable rubber wood and is perfect for small world play.
Children will love the bright designs on this push along. This toy has a double sided design with a natural wood edge on the body and wheels.
This push along toy is:

printed on both sides with a colourful design and has a natural wood grain edge
a chunky size, the animal is 25mm thick
made from eco- friendly wood
Great For
This push along toy helps your child develop:
Dexterity -Fine motor skills
Hand eye coordination
Imaginative play
Language development
Rotational schema
Small world play
Social skills
Specifications
Materials: rubber wood
Dimensions: 94 mm (H)x 146 mm (W) x 58 mm (D)
Recommend play age: 1-5 years

TOY SAFETY
-Age suitability: 10 months +
-WARNING! Not suitable for children under 10 months, due to size and shape of pieces

CLEANING INSTRUCTIONS
-Wipe clean only with a damp cloth
-Wipe away any excess moisture and leave to air dry (avoid direct sunlight)
This fair trade push along toy is handcrafted by skilled artisans in Sri Lanka from sustainably sourced rubber wood and non -toxic paints. Blemishes should be expected, these are part of the beauty of a natural wood product.
Story
Lanka Kade has direct trading relationships with their producers, Upul the director travels to Sri Lanka regularly, working with the artisans to ensure fair trade working practices are met and maintained.
Lanka Kade's commitment to their producers supports their growth and development, whilst ensuring their employees have a sense of job satisfaction and that their employment is valued.
The producer groups offer their staff good rates of pay, equal opportunities and a safe working environment in compliance with the 10 Principles of Fair Trade.
When you purchase a Lanka Kade product you directly support the educational foundation which provides books and daily milk drinks to several rural schools in Sri Lanka.
Bee Cool
This is such a lovely old-school toy. No plastic of course. No screens. No bleeping or other annoying sound effects. Nothing fancy at except your kids' imagination. And when you tap into that, wondrous things start to happen.
I am so pleased with this toy. It was truly a pleasure to watch the wee one's creativity come to life. This push along bee was not only pushed...it flew, it went slow, it went fast, it reversed, it even tried to eat spaghetti. At one point it even took on a push along stegosaurus (and won apparently).
Very happy and recommend highly.