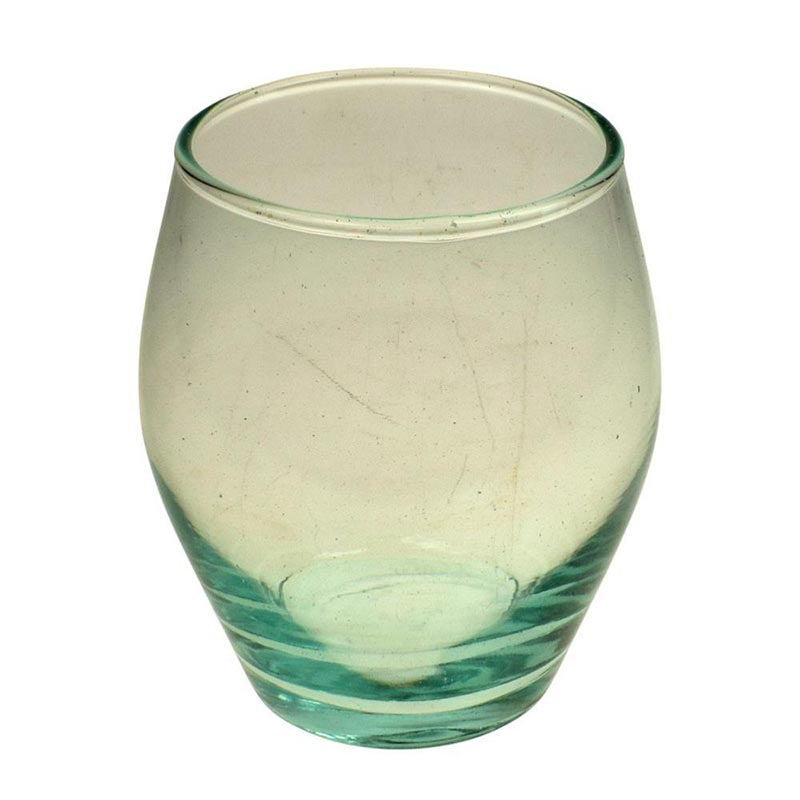 Description
I bought these tumblers as they tick all our boxes: fairtrade, upcycled, super functional and made by a family-run business providing income for over 500 families.
A great eco product, using 100% recycled glass, which is broken up, washed and melted before being mouth-blown and shaped into the finished product. 
You know how much we love Upcycled goods at RainbowLife and supporting a family business to boot!
These recycled tumblers are a solid piece of kitchenware and a talking piece on any table. Imagine the stories if the bottles could talk! Anyone been to Bolivia? I haven't yet but it's on my bucket list. 
They go nicely with our Recycled Glass Jug 
Specifications
Approximate height: 13.5 cm.
Made in Bolivia
Story
Shared Earth's mission is to improve the livelihoods of disadvantaged people in developing countries, benefiting local community projects and keeping alive traditional skills that would otherwise be lost.
Shared Earth aims:
To pay fair prices for products
To always offer 50% payment upfront to overseas producers
To ensure working conditions are acceptable
To provide advice on design and product development
To support suppliers and their local communities
To avoid child labour
To commit to long term relationships with suppliers
Just what I was looking for
Had glasses like these from years ago but a few breakages and was down to just one. Very glad to have found some replacements. They look great, good capacity, fantastic all round.
These are just what you would expect from the description and the photo. Lovely to hold, somehow sturdy but not too heavy. I agree with one of the other reviews.. a perfect alternative to the stemmed wine glass ….
Beautifully crafted
I wanted some stem less wine glasses. These fitted the bill perfectly.
Shapely and finely made I love the fact that they are made from recycled glass by hand.
Great for wine, cocktails, OJ or water.
Worth the price.
Lovely to gift as well