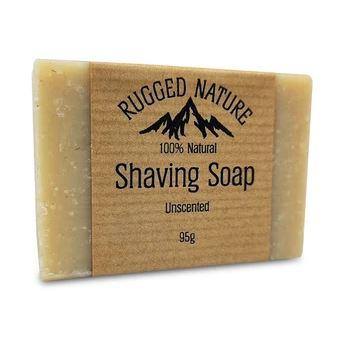 Description
Let's talk about you: Forget shaving foam in a can. Seriously. I am thinking about you. Really I am. It is my firm belief that the ritual of shaving is one to be savoured and not rushed. It is one of the few times that many of us get to focus on the moment; to get absorbed in a routine that ought to be a daily (or so) pleasure without interruption or haste. 

As I mention in my description of the Rugged Nature Rosewood Handled Safety Razor, there is a joy in lathering up with a shaving brush; carefully applying the thick creamy foam to your face or body, picking up a carefully hand carved rosewood handled shaver with stainless steel head; going through the motions of replacing a blade carefully and deliberately; and then finally hearing that satisfying rasp of a super sharp edge scraping over your stubbled face, removing hair and exfoliating simultaneously.
Rinse the shaver head in the wash hand basin with piping hot water; repeat. When done, a splash of cold water to seal the pores and gently pat dry with a clean face towel. 
Five minutes of mindful meditation disguised as a shave. A calm time, where you have nothing else to think about, nothing more important to do. It is your time. Time to kit yourself out with the razor, shaving brush and this: Rugged Nature Unscented Shaving Soap.
Unscented so it doesn't interfere with any other concoctions you apply, it contains aloe vera to moisterise and pamper your otherwise overly rugged visage. Lovely.
Ingredients
Nothing nasty to be found here, only:
Sodium cocoate, Sodium olivate, Aqua*, Sodium castorate, Hydrogenated soybean oil, Kaolin (clay), Aloe barbadensis (aloe vera) leaf juice powder.
*Would someone care to let me know what the difference between Aqua and Water is? It currently baffles me why manufacturers list Aqua as an ingredient like it is something special. Please correct me if I am wrong (if you convince me we'll send you a free bar of shaving soap).
Story
Rugged Nature began in 2018 when as a family they needed an alternative to high street hair products because all of the common brands had perfumes which were causing their asthmatic mother to well.. not be able to breathe. They decided to make their own solution to this problem, so began experimenting with some natural ingredients to make less scented alternatives.

After months of formulating and testing they arrived with some of the first products they still have today, hair waxes made from only a handful of Natural UK sourced ingredients to gain results which are a wonderful natural alternative to the products on the high street.