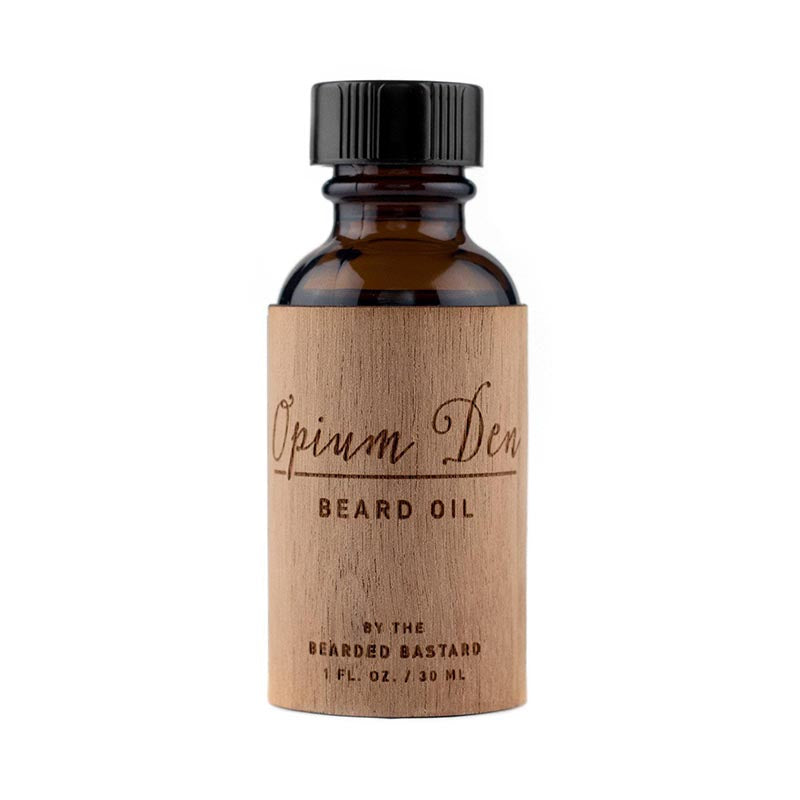 Description
Delightfully intoxicating, our Opium Den Beard Oil is as fragrant and inviting as an Eastern market, yet laced with the dark richness of fine tobacco and smouldering resins.
Cloves, vanilla, and coffee all enhance the experience to carry you to a place that is exotic and enchanting, yet tinged with a sense of alluring danger.

Natural oils keep facial hair soft and reduce itchiness associated with beard growth
Exotic and Inviting Scent
1 fl. oz. glass bottle with real wood label
Includes shaker insert to make dispensing easy
Made by hand in Austin, TX
May contain allergens. Test in a small area before use."
Specifications
Ingredients: 
Grapeseed Oil, Sweet Almond Oil, Argan Oil, Jojoba Oil, Castor Oil, Olive Oil, Meadowfoam Seed Oil, Broccoli Seed Oil, Rosehip Seed Oil, Pomegranate Seed Oil, Tocopherols (Vit. E), Rosemary Oil Extract, Fragrance*

How To Use Beard Oil:



1. Wash Your Beard
Beard oil is best applied to clean, damp facial hair; ideally after showering. Freshly washed hair and skin will better absorb our natural oils and provide optimal results.

2. Place 1-3 Shakes of Beard Oil on Your Hand and Gently Work the Oil into Your Facial Hair and Skin
Begin at the base and work your way down, ensuring that the oil is evenly spread and is massaged into your skin. Longer beards may require a few more drops.

3. Brush Your Beard
Using a beard comb or brush, construct your beard to cultivate your preferred look. Combine with our mustache wax create the ultimate style.
Story
About The Bearded Bastard
Origin Story
The Bearded Bastard was founded by Jeremiah Newton, "The Bearded Bastard" himself, in 2011 when he started making Woodsman Mustache Wax out of his Austin studio. Originally formulated to tame his trademark handlebar mustache, his friends in Austin begged him to sell the wax so they could tame their own 'staches. Recently divorced, Jeremiah only had a motorcycle to his name. With a bag full of product strapped to his back, he rode around town introducing barbershops to his soon to be signature scented products: Woodsman Beard Oil and Woodsman Mustache Wax.

Word soon got out about the wax's impeccable hold and the oil's natural cedar scent. By 2013 Men's Journal, GQ, and Esquire were clamouring to publish about his products as the best in beard grooming and the cult status spread around the world.