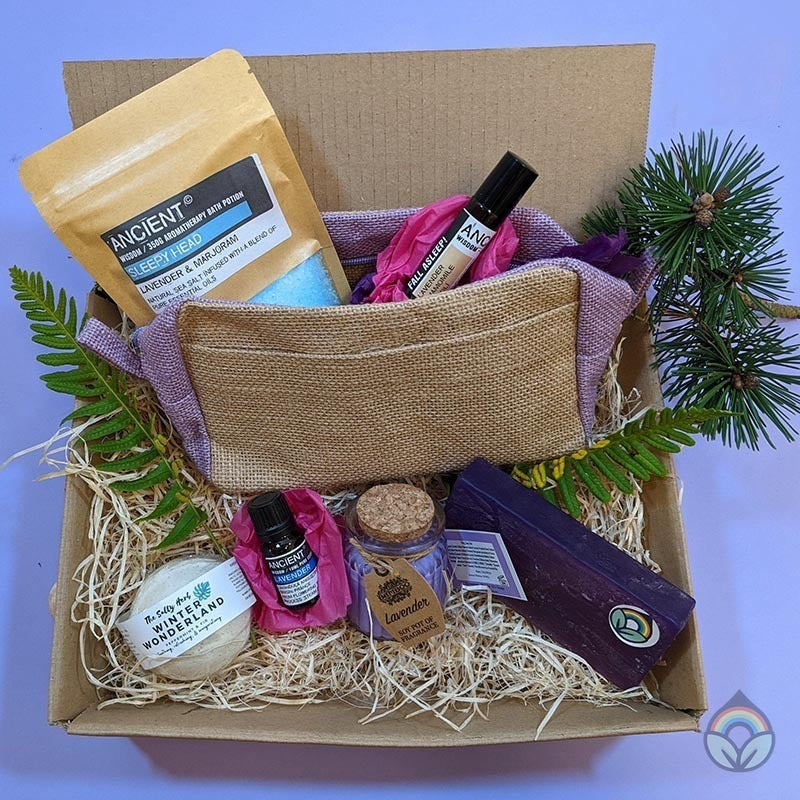 Description
"Every great dream begins with a dreamer. Always remember, you have within you the strength, the patience, and the passion to reach for the stars to change the world" 
-Harriet Tubman
But first you need to fall asleep. The perfect gift to aid that process. You will notice a lavender theme going on here. This is because research suggests that lavender oil may be useful for treating anxiety, insomnia, depression, and restlessness. As a side benefit it is also believed to have antiseptic and anti-inflammatory properties, which can help to heal minor burns and bug bites. All in all, a must have essential oil to have in your life.
We recommend ending your day, about an hour before bed-time, with a nice warm bath. Doing this before bed lowers your core temperature which releases sleep hormones. Set the mood by lighting the lavender soy candle while your bath is filling. Decide if you prefer your bath bomb which is filled with nutmeg, cinnamon, sweet orange essential oils and Moroccan red clay or your natural sea salt bath potion infused with essential oils of lavender and marjoram. Simply add to the running water. If you like mood music, start it playing gently in the background.
Ease yourself into your bath. Lay back, close your eyes and relax. Take a good 10 mindful minutes and try to empty your mind of all negative or stressful thoughts. When you are ready gently lather up your body with Sleepy Lavender Soap bar. Pamper yourself. There is no rush. When you're a ready (or the bath gets a bit chilly) hop out, finish off your bed prep, and climb in under the sheets. Remember to keep your bedroom cool. Around 18 C is about right. Before you slip off though, apply a little Fall Asleep Roll on Essential Oil onto your wrists. The gentle aroma will ease your mind.
With that done: sleep well, dream beautiful dreams, wake up refreshed and ready to tackle all life's pleasures and vagaries that await. Remember, every day is a beautiful day.
Specifications
- Natural jute toiletry bag- Natural & Lavender
- Roll on Essential Oil- Fall Asleep
- Wild & Natural Handcrafted Soap Bar- Sleepy Lavender 
- Aromatherapy Sleepy Head Bath Potion
Presentation
Our customers' opening experience is important to us. We want you to get that feel good moment of delight as you open your parcel which is why we take the utmost care in wrapping all our parcels.

The items in these Gift Sets are thoughtfully & individually wrapped in complementary colourful tissue papers and carefully packed within our signature biodegradable corn starch peanuts, hive wrap & wood wool and sealed with paper tape.

Like a personal message included? No problem. Drop us an email on support@rainbowlife.co.uk with your chosen wording and Nikki will add your gift note.