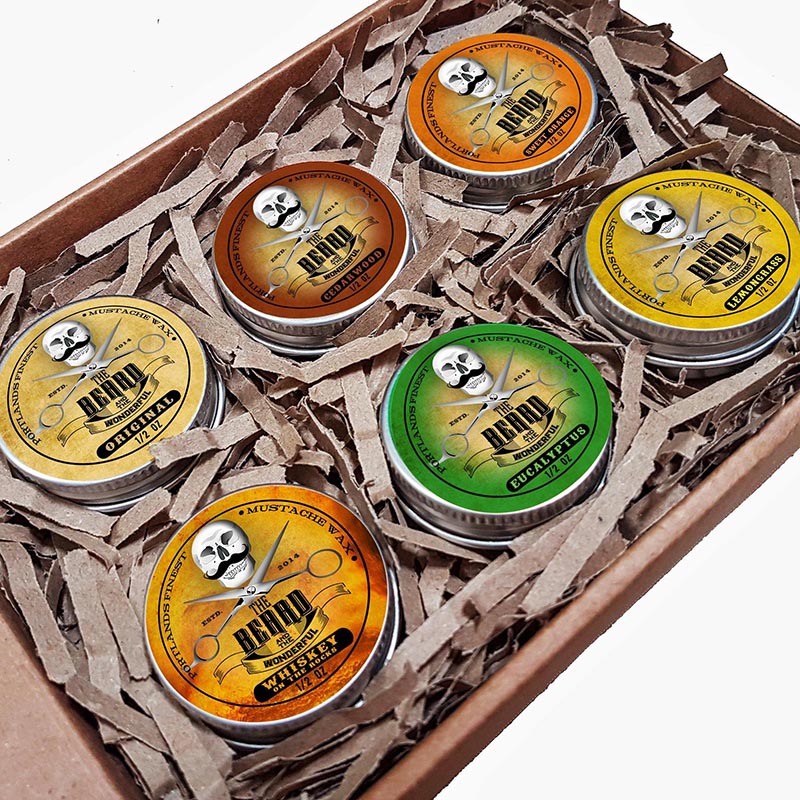 Description
Traditional Styling wax for beards and moustaches.  Firm and moisture resistant. Our strong mustache wax set can be used to firmly hold your facial hair in all styles and shapes and lasts a long, long time as well as being moisture resistant. 

High Quality Ingredients

6 x Pocket sized 15ml Tins

Cedarwood, Whiskey on the Rocks, Lemongrass, Sweet Orange, Original lo-scent, and Eucalyptus fragrances.

Strong hold for mustache and beards

Lasts a long, long time

Moisture resistant so you can drink without getting shaggy

Specifications
What does mustache wax do and why you need it?
Moustache wax is a stiff and slighty sticky pomade that is applied to your moustache to both shape and hold the hairs in place, especially at the ends.
What does it smell like?
Our wax set comes in 6 fragrances. Original low odour which won't interfere with your cologne! Lemongrass with a zingy fresh lemon smell. Beautiful Sweet Orange zest, and refreshing Eucalyptus fragrances.

How should I use it?
Only a small amount of wax is needed (usually less than a fingernail worth) which is scraped from the tin and warmed in the hands. Once pliable it is applied to the ends of the mustache or beard where styling is required. 

Wax Ingredients: Cera Alba (Beeswax), Petrolatum, Essential Oils
NOTE: Always patch test before full use and discontinue if irritation occurs.
Story
We were frustrated by the lack of premium quality grooming products available to men and just wanted something that worked! Holding and shaping products made for 'head hair' usually dissolved in water (not a useful quality for a moustache that is likely to be dunked in water, tea, coffee, juices, and beer throughout the day) and were not firm enough for stiff moustache hair.
Specific moustache waxes and beard oils we had tried were often potently scented and never lived up to their claims. We felt sure that there must be a simple solution - after all, men have been shaping moustaches for centuries.
By combining original vintage recipes with top quality modern ingredients (and a whole lot of testing variations on ourselves) we created our first moustache wax and beard oil. When the products started to take off, the name and packaging was created, reflecting the product's US heritage - The Beard and The Wonderful was born.
Perfect service
Perfect birthday gift for my other half! Very quick service and great communication ❤️ Thanks guys! ❤️