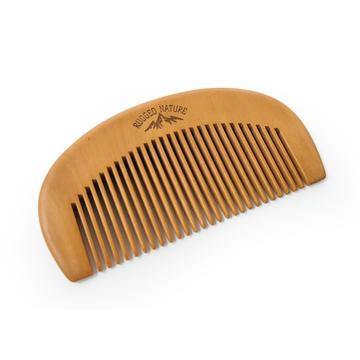 Description
This is a lovely little comb that every beard-loving person should include in their beard ritual kit. If you don't have a beard kit, whip out the credit, or better, get a loved one to whip out theirs. It is time, and you deserve it, by Oden.
The comb: Rugged Nature Wooden Comb - Small: crafted lovingly from peach wood which makes it naturally 'peachy' (that means 'great' in the southern states of the USA I believe).
At around 9 cm wide it is a handy-dandy size to fit in your pocket, toilet bag or on the bathroom counter ready to be called to action whenever the mane needs a tame. Not being plastic means it is cool and you should feel free to whip it out in public with pride. 
Specifications
Material: Peach wood
Width: 9 cm
*the tines are variable length (it's a curved comb) and fairly finely spaced.
Story
Rugged Nature began in 2018 when as a family they needed an alternative to high street hair products because all of the common brands had perfumes which were causing their asthmatic mother to well.. not be able to breathe. They decided to make their own solution to this problem, so began experimenting with some natural ingredients to make less scented alternatives.
After months of formulating and testing they arrived with some of the first products they still have today, hair waxes made from only a handful of Natural UK sourced ingredients to gain results which are a wonderful natural alternative to the products on the high street.