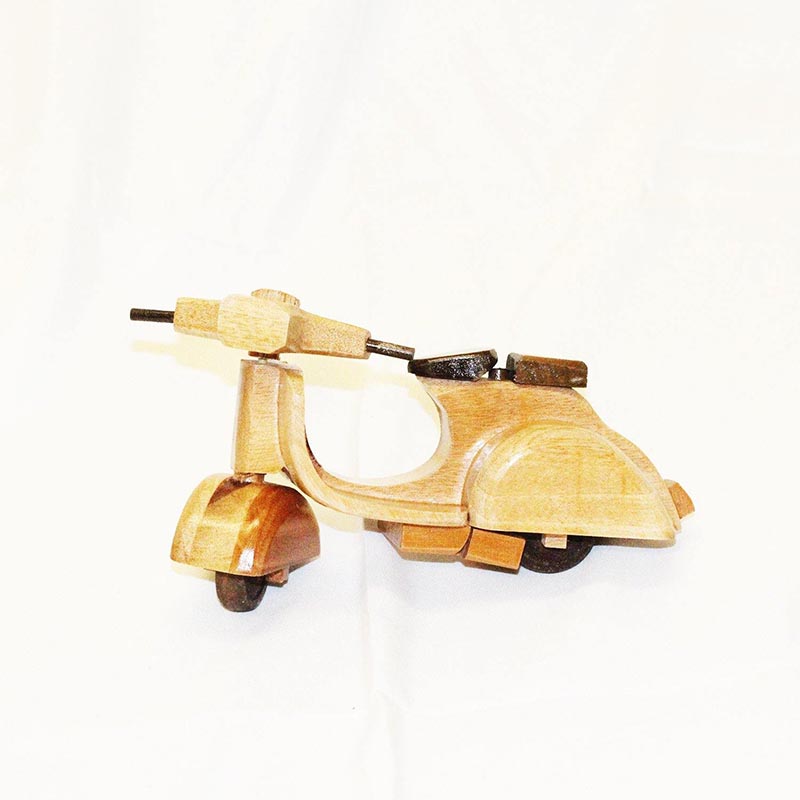 Description 
I have to admit this was an impulse buy. It just made me think of holidays in Tuscany flying around curvy roads, the wind in my hair on one of those classic Vespas. 
Did you know that 'vespa' means wasp in Italian? Perfect name... I would so love to be buzzing around on a Vespa right now!
Something for a desk I think, to make you smile and dream. Day dreaming is good, good for the soul. Just don't get caught 'driving' your scooter around your desk!
This little memory jogger was handcrafted by a properly paid artisan in the beautiful island of Bali. Now is that a place to go motorcycling?
Specifications
Origins: Handcrafted in Bali, Indonesia using waste off cuts of hardwoods from the furniture & handicraft industries.
Dimensions: Length 15 cm, Height 8 cm 
 Story
The fair trade jewellery and handicrafts bought from Indonesia are all village produced. One village will tend to specialize in a certain craft e.g. some concentrate on silver, others bead work, others wood carving or bamboo work.
The villagers are continually producing new designs to add to their collections.
Our supplier supports the development of their craft by paying a fair price to enable the artisans to source new materials and tools. He personally visits the small family businesses and maintains regular contact. 
I bought this for my cousin as a gift . She loves it !