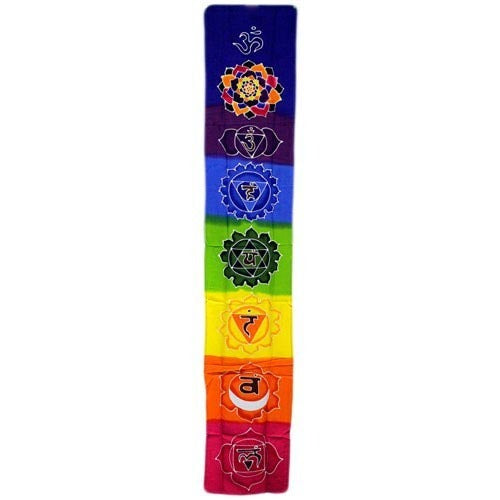 Description
Create positive energy with our vividly vibrant Chakra Drop Banner...
This stunning and beautifully made art is created by first drawing the design in hot wax directly on to the fabric. Then using natural dyes the art work is carefully created. Later the fabric is stretched and sun dried. Finally, the wax is washed out and the final design comes alive with vivid vibrant colours.
Created on the island of Bali in the artistic enclave of Ubud, this wall art is perfect for bringing positive energy to any space.
It would make a lovely centrepiece on a living room wall.
Specifications
183 x 35cm
Handmade in Indonesia
Story
Ancient Wisdom is a distributor of thousands of ethically sound products from all over the world, including the UK. Many of their health and skin care products are made at home in their Sheffield, UK factory.

We like Ancient Wisdom. They have a solid ethos of fair, reasonable and practical across everything they do. 

David, the founder, spends much of his time researching sustainable and ethical alternatives for FMCG "fast moving consumer goods". He specifically seeks out small businesses around the world looking to bridge the gap between economically developing and the developed world. His team in the UK support these small enterprises with market-specific product design. Artisans are guided to make products that are culturally appropriate in terms of aesthetics and quality for the international marketplace, while retaining their unique local charm.